Beauty Lesson N°9
OUR BODY OILS & THEIR PROPERTIES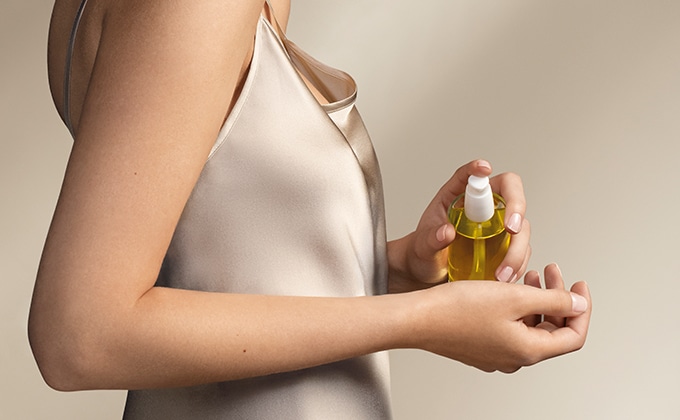 THE VEGETAL OILS AND THEIR BENEFITS
At estime&sens, our oils are designed with organic vegetal oils, 100% natural, first-cold pressed in order to keep their exceptional properties.
The organic vegetal oils are chemical preservative-free, without any pesticide, fungicide, chemical fertilizer residues, paraben or other endocrine disrupters, and their origin is known.
In addition to their concentration in active ingredients and their high affinity with the skin, they gently combine with a care step that helps the active ingredients of a product to sink in the skin tissues. They work by similarity with the hydro-lipid film of the skin.
Their ingredients come to compensate for a sometimes low in essential saturated fat diet, and directly favour the proper functioning of skin cells.
Elixir of relaxation for the body and mind.
Why do we like them ? 
For their targeted treating effects, and because they address specific needs. Because they are genuine elixirs that are concentrated in active ingredients, with moisturizing and nourishing properties. For their unique texture that invites to massageing.
The glass spray bottle fits in the bathroom and makes body care steps on a daily basis easier.
Why do we like them?
Because they set a light and satin-like veil on the body.
It is a genuine moisturizing and nourishing stroke on the skin that is immediately made sublime, smooth and nourished. For their ultra-penetrating texture, their travel size that make them handy to take with on a week-end break or a trip.
The light spray bottle 100ml can be slipped into a flight bag, somewhat obvious for a (f)light oil !
Every light oil has its function and its beloved fragrance.
DISCOVER ALL OUR LIGHT BODY OILS
– Light Body Oil : N°1 : Protective – fruity : macadamia oil, sugary fig coconut fragrance
– Light Body Oil N°2 : Nourishing – flowery : milk thistle oil, flowery Ylang Ylang fragrance
– Light Body Oil N°3 : Softening – gourmet : soft almond oil, gourmet almond biscuit fragrance
– Light Body Oil N°4 : Beautifying – fresh : jojoba oil, tonic Yuzu fragrance
touch, massage and self-esteem
Applying one's oil on a daily basis also means taking time to set a caring hand on one's skin.
Feeling well with oneself means feeling well with the others, every day that beauty step helps you feel well and improves self-esteem.
Shine from within to shine outwards.
« As a user of the Essences of Esteem, I am committed to body oils that I use for massageing in the morning or the evening after showering. They repair my skin when it's getting dry, especially during winter. With my discovery of the light body oils, I am seduced by their light texture and the spray bottle's practicality that allows to take it with me everywhere I go. It is perfect for summertime and I got a crush for N°4 with its Yuzu fragrance, both fresh and acidulous scent. I love it !»