Beauty Lesson N°12
BODY BEAUTY MISTS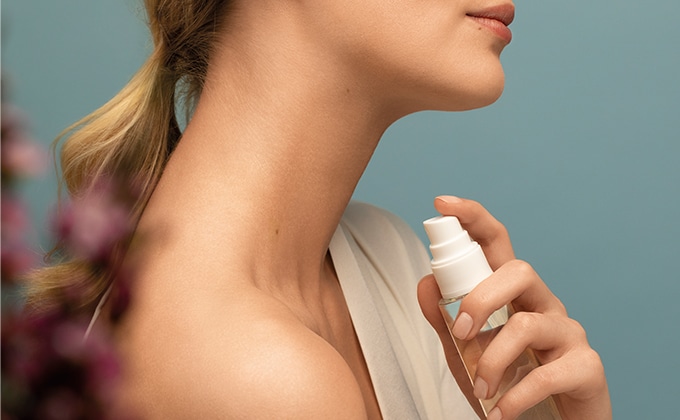 PERFECT BALANCE BETWEEN SKIN CARE AND FRAGRANCE 
The body mists are beauty skin cares that refresh and perfume the skin. With that beauty ritual, plunge into a soothing and enveloping olfactory atmosphere while delicately moisturizing your skin. 
ONE SKIN CARE, one result 
Like real veil of softness and feminity for the body, they moisturize, refresh and tickle your senses.
They combine hydrating glycerin and extract of nourishing cotton seed. Two active ingredients that will together bring both freshness and softness. They will guarantee a delicately moisturized skin, which is particularly valuable in midsummer. The pleasure to perfume oneself on bare skin. Their formulas without any synthetic agent have no photosensitive active ingredient so as to be worn under the sun without fear.
ONE GESTURE, one ritual 
To be sprayed whenever one feels like it during the day! Even if the best way to take advantage of all their invigorating power still is to spray the body mist into the palm of the hand and rub it on your body, just after showering.  A step that is too often overlooked though it is unique as far as stimulating both body and spirit is concerned.
A perfume is defined by its olfactory pyramid.
Head notes : notes that immediately stream around, the first ones to be smelt… Lasting 3 to 5 min. 
Heart notes : intimate notes of the perfume, that appear after head notes, they are responsible for making you love a particular perfume. Lasting 4 to 5 h. 
Base Notes : notes that guarantee a perfume's persistency and sensuality. Lasting 6 h and more.
When choosing its notes, the perfume designer determines the character and the intensity of the desired fragrance.  A perfume somehow tells a story that is passed on to the woman or the man who will wear it…
BODY MIST OR PERFUME?
Each product has its own fragrance, its own intensity, each one has its own reason to be preferred over !
Body Mist, Toilet Water, Eau de Parfum, Perfume… The olfactory intensities shall differ according to the chosen formula.
During summer, with heat and humidity,  the perfume notes reveal themselves and develop more intensely, so Body Mists shall be preferred for the softer trail left by its notes.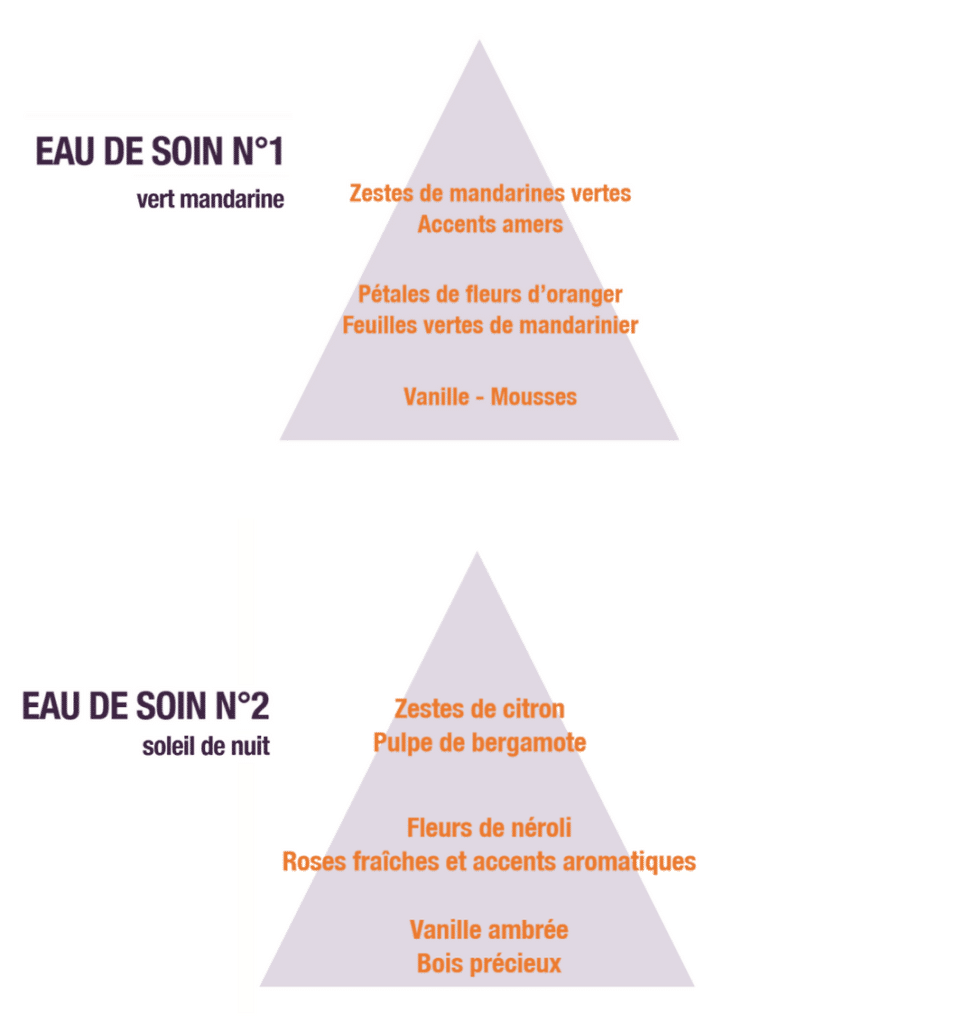 Body Beauty Mist N°1 - Green Mandarin
Perfumes and hydrates* in one single step.
BODY MIST N°1 – green mandarin
« This tonifying and stimulating mist acts as a true Proust's madeleine. It reminds of childhood afternoon tea and the enchanting scent of the mandarin peel.»
Yann MAUREL-LORÉ  – Founder of estime&sens
– Green tangerine peels – Bitter stresses
– Orange blossom petals – Mandarin tree's green leaves
– Vanilla – Mosses
Body Beauty Mist N°2 - White Nights
Perfumes and hydrates* in one single step.
BODY MIST N°2 – White Nights
A tribute to the movie « White Nights » in which I discovered Mikhaïl BARYCHNIKOV and Isabella ROSSELLINI for the first time whenI was 15. The incongruity of the sun in the night reminds me of the contrast between darkness and light, between warmth of the day and the freshness of the night. But the impossibility to combine day and night at the same time and place inspired me to create this fragrance. The contrast between its fresh, sparkling notes and its warm and sensual notes allows to wear it either during the day or at night.
Yann MAUREL-LORÉ  – Founder of estime&sens
– Lemon zest, bergamot pulp
– neroli flowers, fresh roses and aromatic accents
– Amber vanilla, precious woods
– After sports, on summer mornings, during heat waves, apply the Body Mist GREEN MANDARIN, the fresh and citrus notes will have an invigorating and stimulating effect ! 
– During your long summer evenings, after a day in the sun and a revitalizing shower, you will wear the Body Mist WHITE NIGHTS that will envelop you in its flowery and sensual fragrances.