Beauty Lesson N°10
SOLUTION CONCENTRATES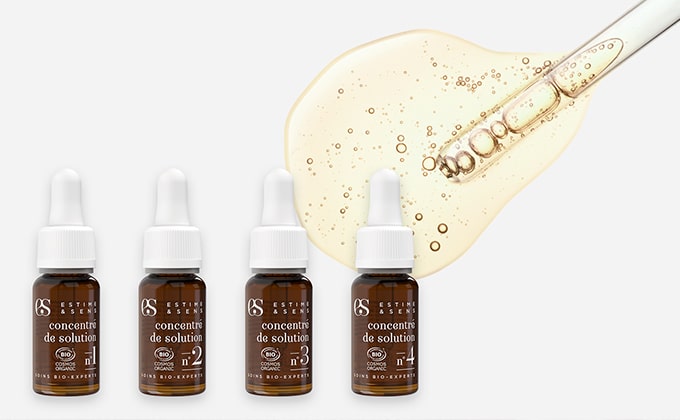 100% ACTIVE COCKTAIL
The  Solution Concentrates combine the penetrating property of Vegetal Oils, the power of Essential Oils and the benefits of aromatherapy.
It is THE new reflex one must have to significantly improve skin beauty.
A promise kept thanks to the composition of 4 superpowered cocktails that rely on 100% active formulas combining natural and/or certified ingredients that have rigorously been selected for their might and their synergy.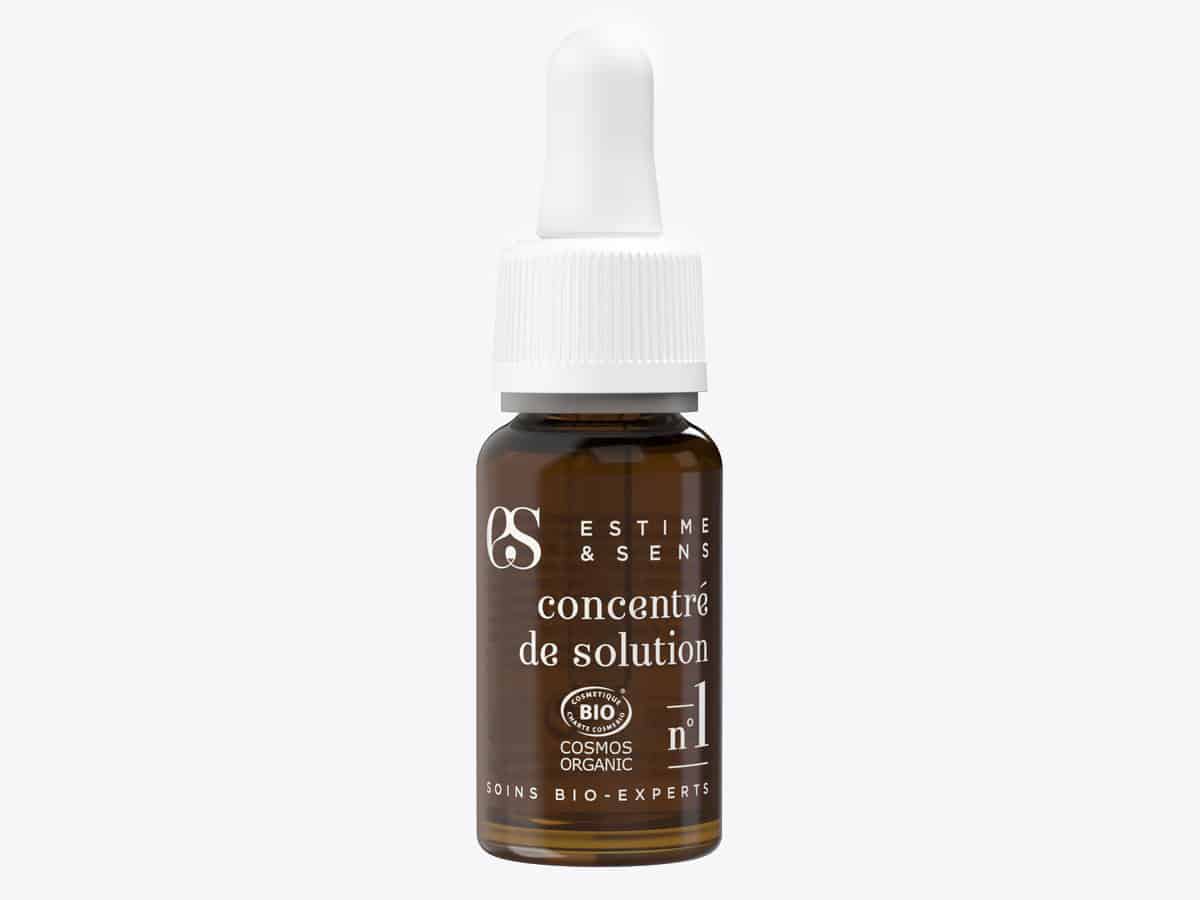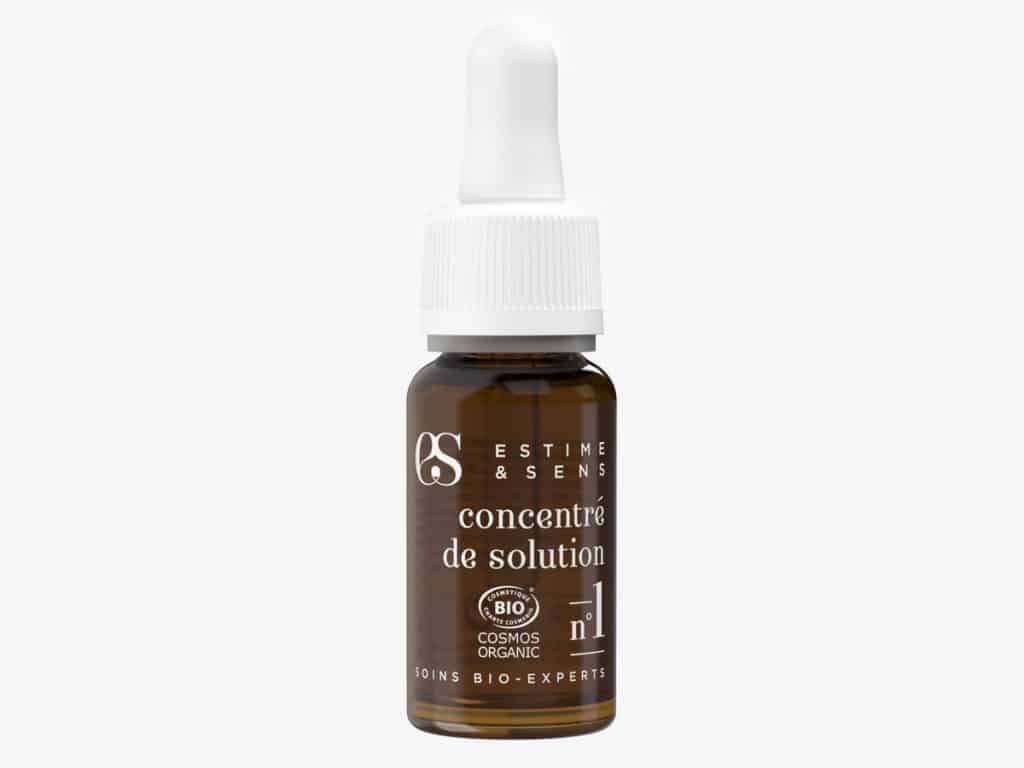 Oily skin and/or with imperfections
OILY AND/OR BLEMISHED SKINS
Ultra-concentrated, that regulating product purifies the most oily skins, helps them recover their balance and visibly blur excessive glows, blemishes, blackheads…

– Organic jojoba oil : non-oily and absorbent, ideal for a dry touch effect
– Organic hazelnut oil : rich in phytosterols, repairing and soothing
– Organic Nigella oil : purifying, rich in vitamin E, anti free-radical carotenoids, iron and phosphorus
– Organic essential geranium oil : purifying, cleansing
– Organic essentiel palmarosa oil : purifying and cleansing blemished skins
– Organic essential niaouli oil : Purifying
– Vitamin E : Antioxydant
DULL COMPLEXION / FATIGUE – SHORT NIGHTS
After a bad night's sleep or in prevention of a short night to come, here undoubtedly is the most efficient solution to blur any sign of tiredness.
Dull complexion and lack of radiance surrender to that ultra-concentrated skin care which give your face a genuine radiance boost.
Organic sunflower oil : Moisturizing*
Organic apricot kernel oil : Brings radiance
Organic camelina oil : Soothing, repairing
Organic palmarosa essential oil : Speeds skin tissue regeneration up
Organic carrot extract : Rich in provitamin A, beautifying complexion
Organic beta-carotene : boosts suntan
Vitamin E : Antioxydant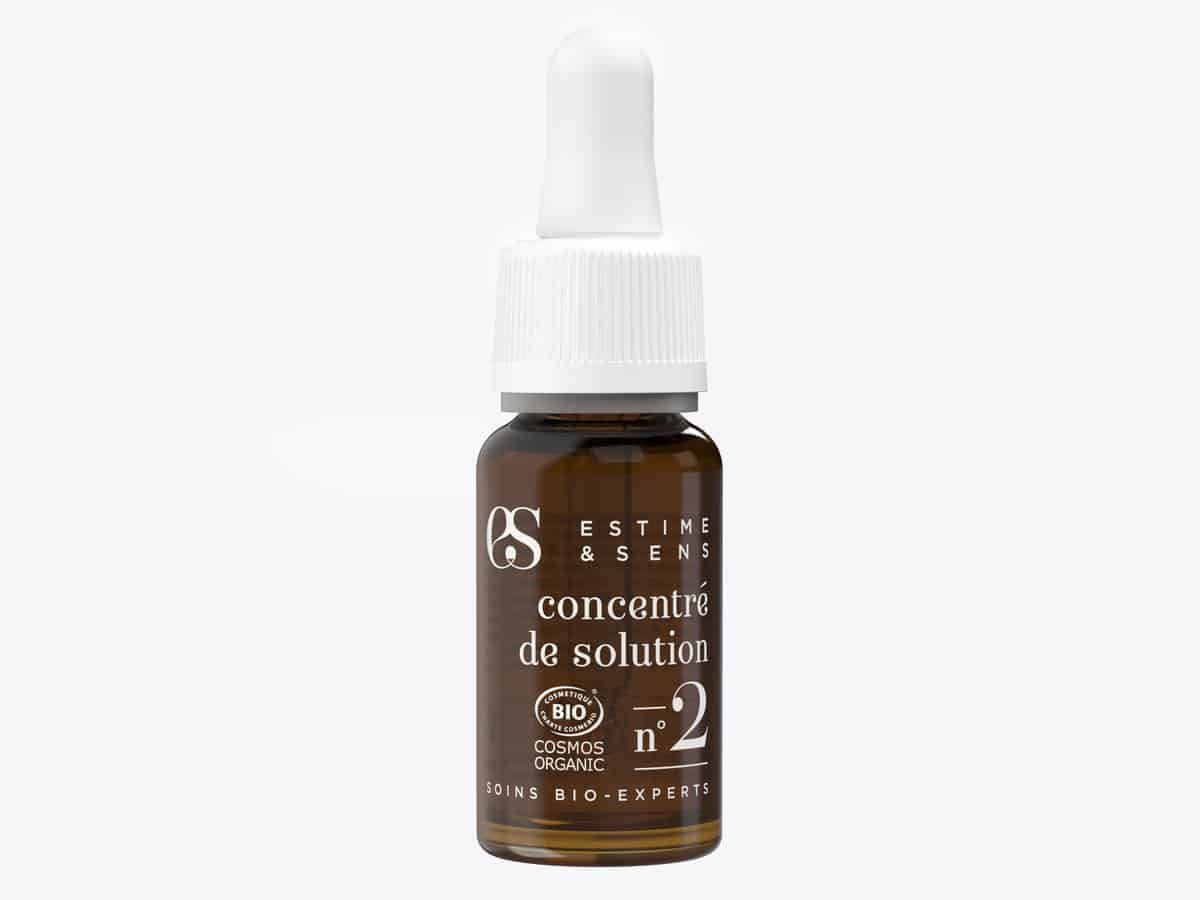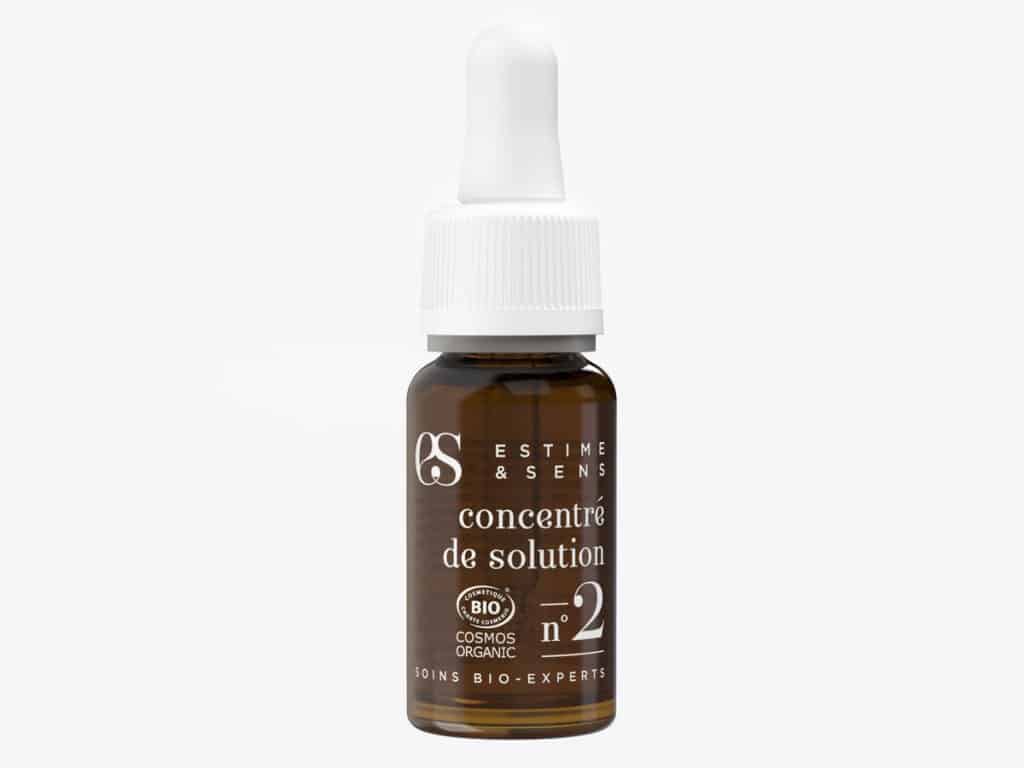 Dull complexion / tiredness / lack of sleep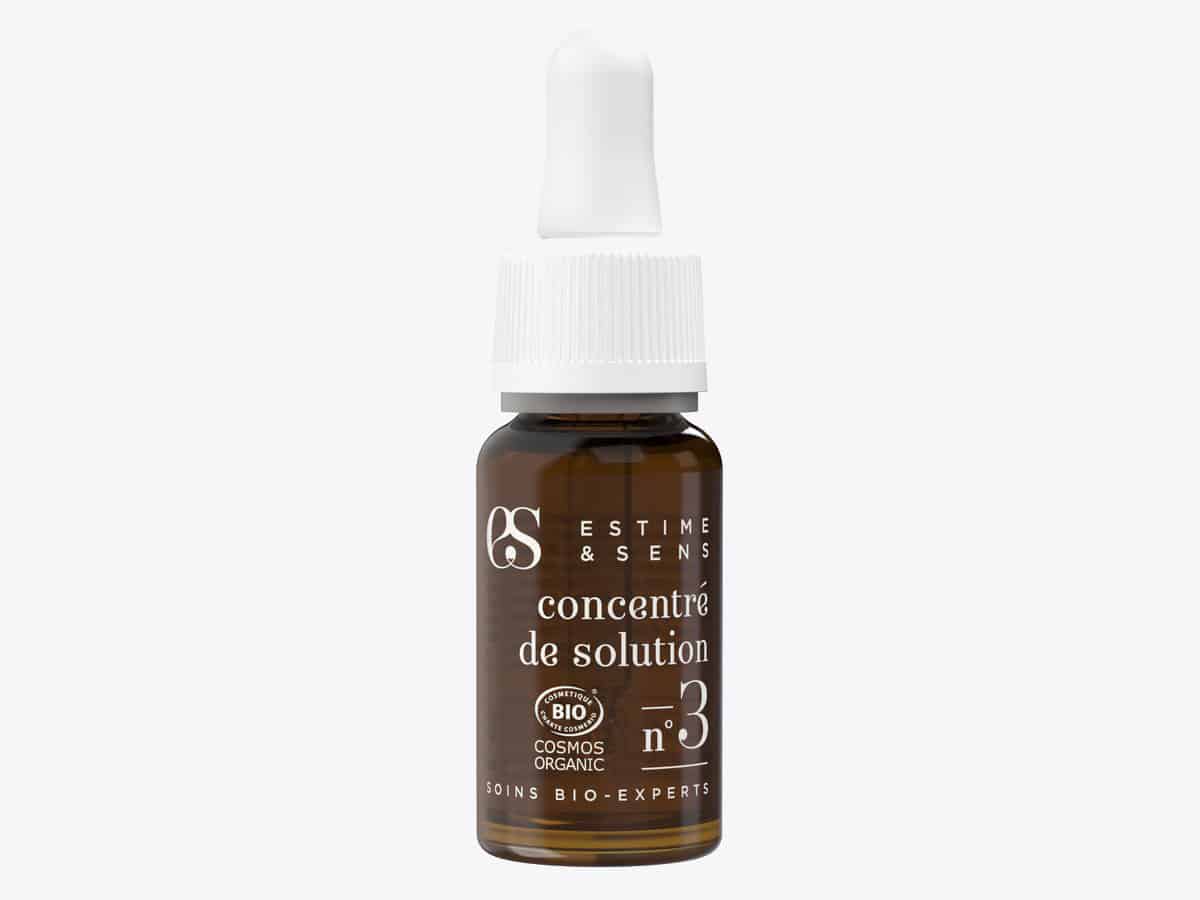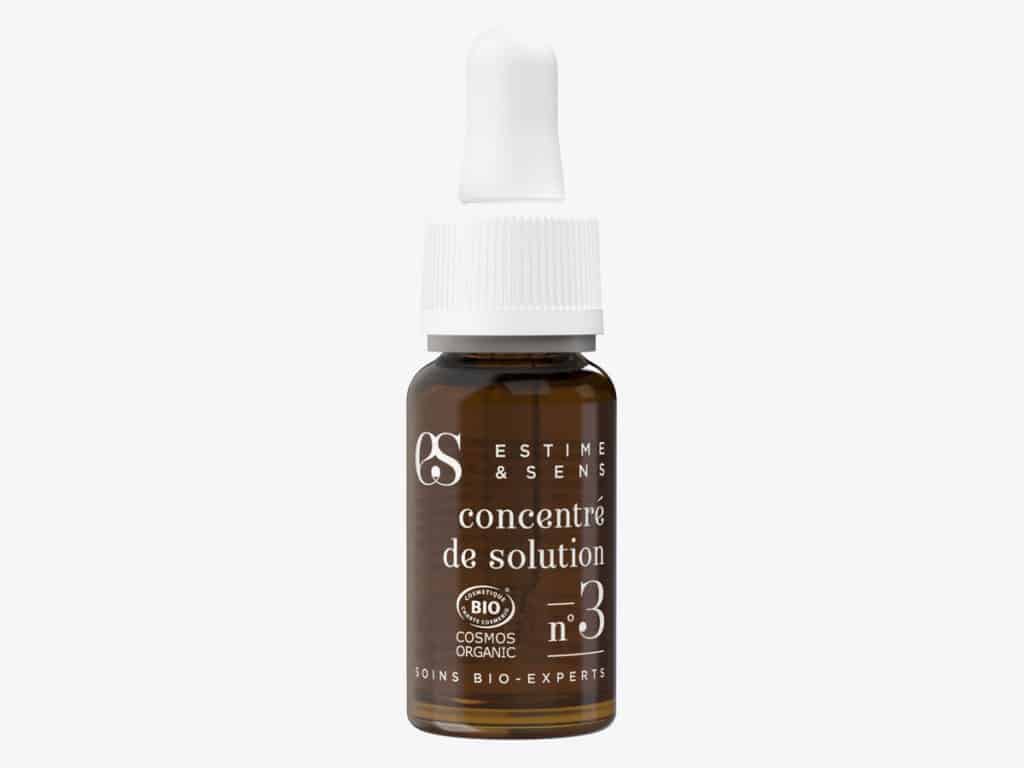 100% ACTIVE COCKTAIL : Irregular pigmentatoin face & hands
UNEVEN FACE & HAND SKIN PIGMENTATION
Autumn / winter is the ideal season to blur pigmentary spots. Ultra-concentrated, that product – which can be used any time of the year-visibly lightens face and skin pigmentary spots.
Organic musk rose oil : Regenerating, repairing, preventing skin spots
Sunflower oil : Moisturizing*
Organic lavander essential oil : Repairing, soothing, helping to induce sleep
Undecylenoyl phenylalanine : Protein coming from castor beans, naturally found in the skin and inhibiting melanogenesis.
Sacred lotus extract: Smoothening and brightening thanks to its astringent effect
Vitamin E : Antioxydant
SENSITIVE SKINS AND DIFFUSE PINKNESS
Already subject to diffuse redness, skins prone to rosacea or sensitive skins are even more exposed in winter and when cold dilates blood vessels.
For those skins, this concentrated product soothes, calms and blurs redness thanks to its highly soothing formula that will generally delight the most delicate skins.
Sunflower oil : Moisturizing
Organic sweet almond oil : Emolliating, softening, smoothening, soothing
Organic Lavander essential oil : Repairing, soothing, helping to induce sleep
Camelina oil : increasing the natural protection of the skin, anti-inflammatory, moisturizing
Geranium flower essential oil : Anti-inflammatory, astringent, antibacterial
Organic calendula flower extract : Soothing, smoothening, calming, minimizing skin discomfort
Pink pepper extract : Immediate effect that keeps working for one hour on blood microcirculation, making skin lose its pinkness
Vitamin E : Antioxydant
SOS PRODUCT Fragile skin and pink blotches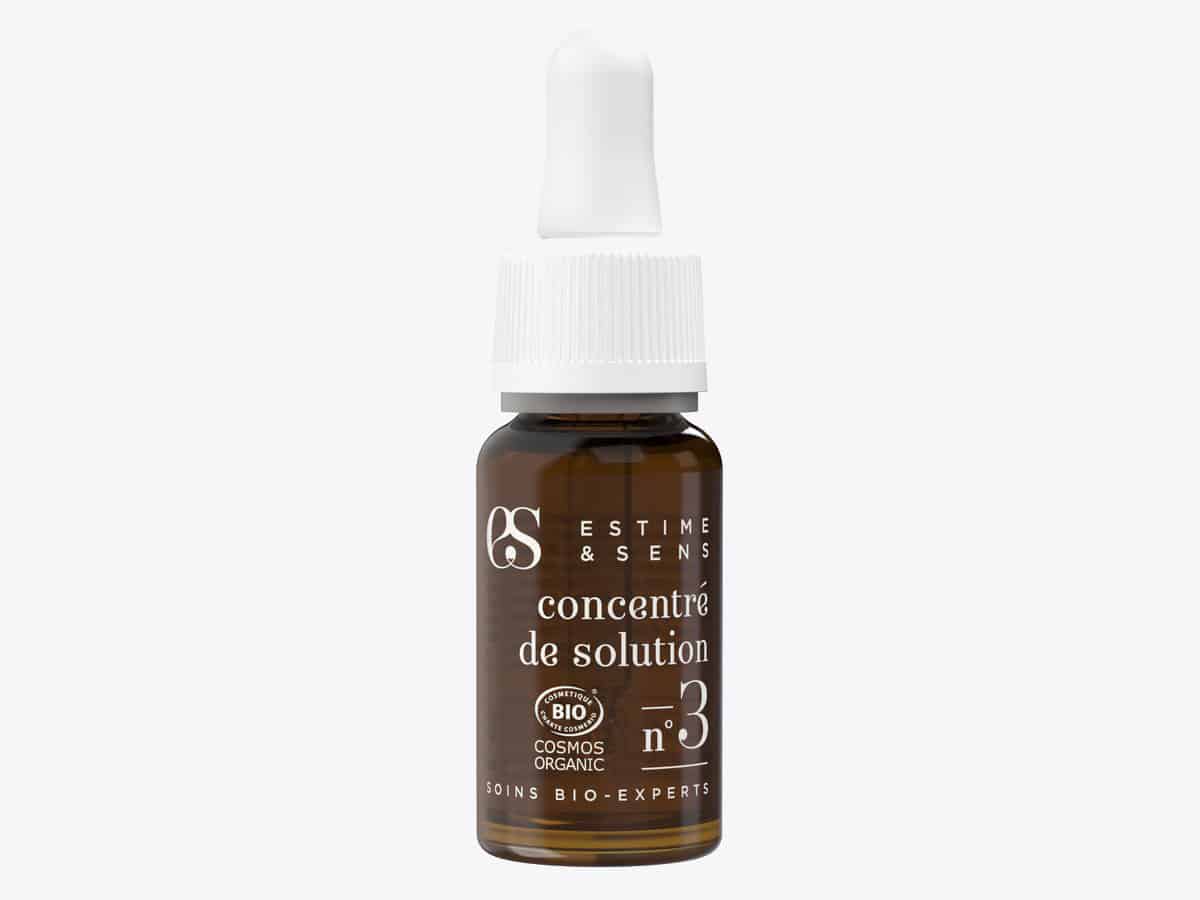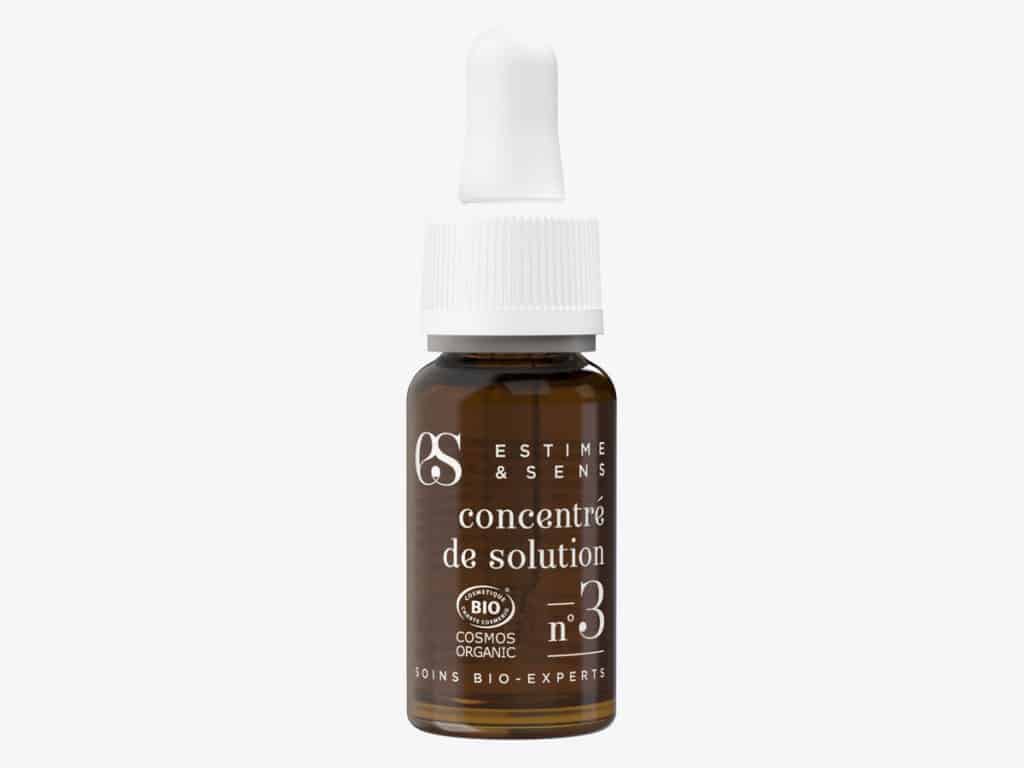 Oily skin and/or with imperfections
Small bottle – 9ml
The dropper format of Solution Concentrates allows accurate dosage.
Put 1 to 3 drops into the palm of your hand and then evenly or locally spread on your face.
Avoid eye contours.
Use it occasionally or as a treatment and every time your skin demands it. Beneath day and/or night care, apply it in the morning and/or in the evening.
Then close tightly your Solution Concentrate vial to keep intact the properties of the oils inside it.
Application : 
– once a day : 2 month treatment.
– twice a day : 1 month treatment.
Competent advice and personalized
Face care
Before your face care, your beautician makes a skin diagnosis and advises you about the product that best meets your needs.
All the estime&sens Face Cares include 1 or 2 applications of Solution Concentrates, according to your concerns.
Integral part of the Bio Active, Bio Expert or Sublime care protocols, their effectiveness is maximized and their penetrating power is increased when applied before a face modeling mask or a specific one.