Beauty Lesson N°4
PROLONGING AND SUBLIMATING SUNTAN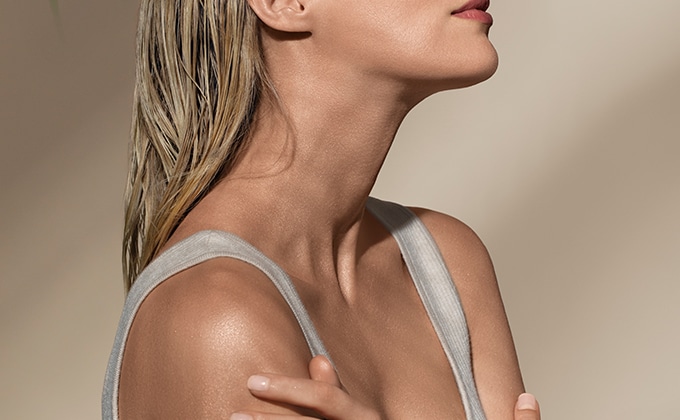 JUST AFTER THE BEACH OR BACK FROM HOLIDAYS
Grant yourself a few minutes to take care of your face and your body. Heated by the sun, irritated by sea salt, dehydrated by the wind, your skin demands your care.
That very short but complete ritual  will have an immediate positive effect on your skin's beauty and comfort.
You will be glowing!
Three-grain emulsion scrub
Start with gently cleaning your face with the organic Cleansing Gel "Good Morning Good Evening".
Dry your face and apply a pearl-size drop of the organic Instant Radiance Scrub then smoothly massage your face skin with your finger pads.  Both exfoliating and hydrating, its double action will unify skin complexion and make suntan last longer.
Then apply the organic Express Moisturizing Mask, a genuine "thirst quencher" for the skin, it will illuminate suntan and rebalance the water content of your epidermis that has been strained by sun exposures and bathings. 
In a few minutes, the small fine lines caused by dehydration will disappear, your complexion will be radiant and your skin will be restored.
While your facial mask is settling, get in the shower and apply the organic Body Scrub 2-1 over your whole body while your skin is still dry. 
Vigorously massage your whole body, it will stimulate blood microcirculation (first action against cellulite).
While the coconut shell will exfoliate your skin to give it a uniform appearance and an ultra-soft feeling when touched, shea butter and coconut oil will also, in turn, nourish and hydrate it so as to enhance your skin radiance. 
Then slightly moisten your body in order to reactivate the scrubbing effect and proceed to a second vigorous massage of your skin.
Rinse and dry yourself.
When going out of the shower, rinse the organic Express Moisturizing Mask and apply the organic anti-ageing Simplessence serum to repair the harmful effects of the sun.
Its high concentration in essential fatty acids works like a genuine fountain of youth for the skin.
Apply the organic oil Essence of Esteem n°5 on the body as it will intensively nourish your skin and have an immediate soothing and repairing effect.
The application of the organic body oil Essence of  Esteem n°5 will give your skin a satin-like aspect, reveal your suntan and favour it during the sun exposures to come.
Dont' forget that a well-exfoliated and well-nourished skin will remain suntanned and keep more radiance longer.
Express Moisturizing Mask
Anti-ageing morning and /or night nourishing oil
Soothing face and body after sun oil. Accelerates and prolongs the tan.
If you go out, end with a few drops of the organic body oil Essence of Esteem n°4 on your cleavage, your legs and your arms so as to enhance your suntan and emphasize your skin thanks to its delicate glitter dust.
– You systematically apply a SPF50* sunscreen for every sun exposure to the sun, (even if the weather is windy and cloudy and you don't feel the heat)

– You use several protections such as a hat, sunglasses, light clothes, a sunshade…The sunscreen blocks UVB rays and prevent sunburns, however it is not a shield against all the UV rays' harms.
*sun protection factor